Organising blended learning
Blended education combines face-to-face with IT-based forms of education. This is more in line with the student's needs and enables activational and time- and location-independent learning. It does have consequences for institutions; it requires vision, redesign of education, and good support from instructors.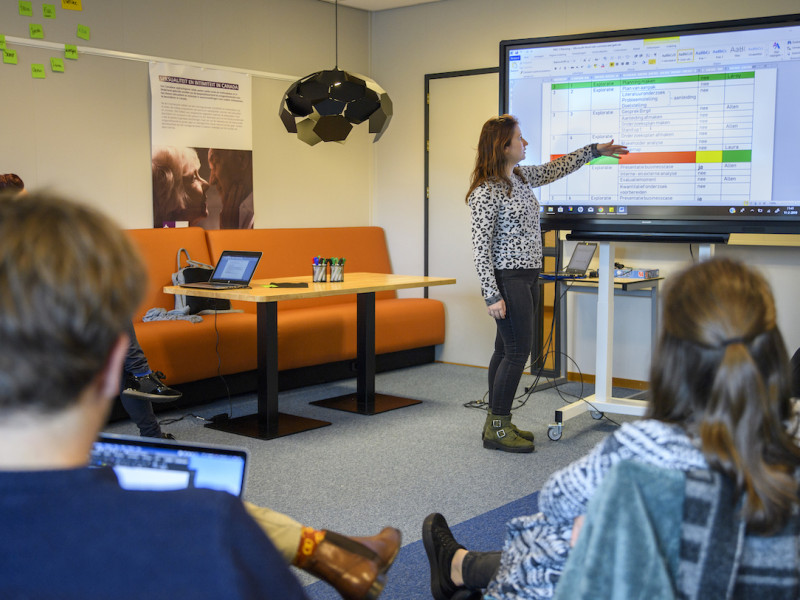 Vision on blended learning
If, as an institution, you want to use online and blended learning (or elements of it), this will affect your business model and the role that lecturers and support staff play. It therefore calls for a focused policy. But how do you go about this?
Strategy, policy and change management
In the European context, work has been done in recent years by KU Leuven and TU Delft on a reference model: EMBED. This model contains criteria and tools to assess the degree of maturity of blended learning and innovation. It also sets out guidelines for a how to approach the organisational change.
The Acceleration Plan's zone addressing the issue of 'Facilitating professional development for lecturers' recently elaborated the 'motion sensor'. This tool helps institutions to discuss what steps are still needed in order to develop successful innovations in their education.
Lessons learned
In recent years, SURF has collected a number of lessons learned as well as practical examples:
The themed publication 'Connection with Professional Practice' includes the key opportunities that open and online or blended learning offers to integrate knowledge and experience from the professional field into the teaching that takes place on campus.
The themed publication 'Opportunities for On-Campus Education' provides insight into how students in the regular learning process can benefit from online learning and what it means for the role of the lecturer. It also takes a look at what changes and arrangements are needed at the institutional level to make it possible.
The themed publication 'Reaching New Target Groups' makes clear how online learning can help learning providers tap into new target groups, as well as addressing the key reasons to invest in new target groups and what requirements need to be met before this can take place.
In het kader van het European Maturity Model for Blended Education (EMBED) hanteren Dijkstra en Goeman (2021) de volgende definities van blended:
Blended Learning verwijst naar leren als een gevolg van een bewust gekozen en geïntegreerde combinatie van online en face-to-face leeractiviteiten.
Blended Teaching verwijst naar het ontwerpen en faciliteren van blended learning activiteiten.
Blended Education (Blended onderwijs) is de formele context waarin Blended Teaching en Blended Learning plaatsvindt, bepaald door het beleid en de omstandigheden van de onderwijsinstelling en de ondersteuning van Blended Learning en Blended Teaching.
Geleerde lessen voor een ideale blend
Sinds de coronacrisis is er veel onderzoek gedaan naar de ervaringen van online en blended onderwijs. Uit het rapport De Toekomst van Blended Onderwijs is Gestart, een onderzoek onder 1500 studenten en medewerkers van hoger onderwijsinstellingen, blijkt hoe lastig het is om online onderwijs te organiseren. Er zijn zorgen over de kwaliteit van het (practicum)onderwijs, de werkdruk onder docenten en het welzijn van studenten. Tegelijkertijd zijn er ook veel positieve kanten aan online onderwijs zoals tijd- en plaatsonafhankelijk leren, innovatieve werkvormen en online kanalen voor individuele begeleiding van studenten. Conclusie van het onderzoek is dat zowel studenten als docenten voorkeur hebben voor een mix van online en fysiek onderwijs.
In het rapport doen de onderzoekers een aantal suggesties om te komen tot een ideale blend.
Terug naar de tekentafel. Een visie op instellingsniveau is belangrijk, maar ga vooral uit van wat docenten in de praktijk ervaren.
Betrek studenten bij het ontwerp. Natuurlijk is 100% maatwerk voor alle studenten niet haalbaar. Maar neem studenten mee in de regie op hun onderwijsmix, vraag hen om een vak mee op te zetten.
Investeer in online onderwijskwaliteit. Dat betekent investeren in professionele ontwikkeling van docenten, en werk maken van online didactische vaardigheden.
Maak in het ontwerp ruimte voor online binding. De docent is hierin belangrijk, maar zorg ook als instelling voor community building en werk aan online verbondenheid.
Gebruik de campus als plek voor co-creatie. Maak van de campus meer een ontmoetingsplek dan een werkplek of een instructieplek.