Consultancy on ICT solutions for researchers
SURFsara possesses a wealth of experience in the field of ICT services for researchers. If you need help developing/improving your application or designing your infrastructure, then you've come to the right place. Our experts will be happy to lend their expertise to support your research.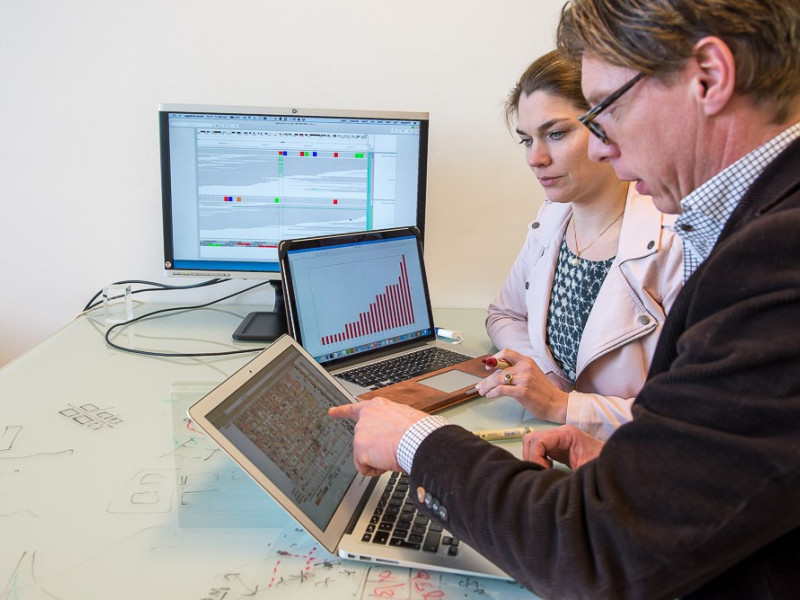 Why hire consultants?
SURFsara offers support as standard with its data and computing services. This includes installing the necessary software on our systems, providing access to the systems and solving user problems. For more substantial issues, we can offer consultancy projects. Our advisors will be happy to offer the expertise that they have built up over years of professional practice. On-demand and on-site training are also included in this service.
Available on demand
Developments in the field of High Performance Computing (HPC) are coming thick and fast. For many organisations, it is not convenient, practical or effective to monitor all of these developments themselves. For research organisations, it is usually better to focus on their core business: conducting research. Our advisors ensure these organisations are kept up to date with the latest developments. The advisors contribute their knowledge to your research project wherever and whenever necessary.
SURFsara: areas of expertise
We possess a wealth of expertise in the following fields:
software optimisation
design and set-up of computing facilities
data infrastructure
big data
rapid connections between SURFsara systems
visualisation.
Software optimisation
We offer single core optimisation (improving applications per core), parallelisation and support with scalability of applications. To optimally benefit from the significantly improved performance of modern HPC systems, in-depth knowledge of the underlying hardware and programming models is required. SURFsara has experience with a large number of supercomputer architectures. With this experience, we ensure your applications can capitalise on the power of our HPC systems. This service also includes the development of specific software for your research activities.
Computing facilities
Designing a computing facility requires expertise in the use of HPC systems for computing and data storage. To realise the desired level of performance and service management, thorough knowledge of possible architecture solutions is required. SURFsara has experience with a large number of computing and storage architectures. We advise you on the most suitable strategies for data access and processing. We can also port and scale up applications into a distributed computing infrastructure.
Data infrastructure
SURFsara's Data Services Group possesses years of experience in managing data-storage infrastructures for research communities. We can advise you on how to handle this data explosion. Our advisors know exactly what challenges crop up in relation to long-term data storage, including data-management tools. We also provide advice on the optimal set-up for your data infrastructure. We offer this support in conjunction with ResearchData NL, which also includes 3TU.Datacentrum and DANS.
Big data
It is not easy to choose the right frameworks or tools for Big Data Analytics. Projects may start with small amounts of data but often end up having to handle unforeseen workloads. Choosing the right approach from the start is key. 
SURFsara can assist you to make the right decisions right from the start of your project. We also support you in setting up a scalable and cost-effective solution either at SURF or public cloud infrastructure. We have a broad range of expertise at our disposal, from streaming analytics to (no)SQL data stores, from container based solutions to serverless architectures and much more.   
Network connectivity
Network services are nearly always part of a larger project: this is also the case for consultancy relating to network connectivity. This sort of consultancy is recommended for researchers or administrators who require customised connections. For researchers who want to use a network connection in addition to regular internet, we offer advice on matters such as setting up lightpaths. In this capacity, we work together with SURFnet. In cases such as these, we help individual scientists to find the best solution to their problem. We ensure they get the network connectivity that they need for their desired application.
Visualisation
Our visualisation experts are happy to help you develop and improve your visualisation software. This includes support in developing large-scale scientific visualisations and high-resolution visualisations using tiled-panel displays. In addition, we can provide remote assistance with visualisation by means of our rendering cluster and streaming visualisations via a network. Visualisation applications based on Google Earth, Google, Maps, VTK, OpenGL etc. are also among the possibilities.
Domain-specific expertise
Our advisors have a great deal of research experience in a large number of disciplines. This enables them to fully understand your research question and to translate your needs into the optimal ICT solution. SURFsara has a special team for life sciences that possesses extensive experience of ICT support in this discipline, such as next-generation sequencing and image analysis.
Rates
We provide support free of charge for our computing and data services. We will establish a project plan based on your needs.
The cost of consultancy projects are based on an hourly rate.
For more information about our rates, contact SURFsara via info@surfsara.nl.
Contact
Would you like more information? If so, feel free to contact us via info@surfsara.nl.
This is an optional SURF service.