eduroam: easy access to wireless networks
eduroam gives students, lecturers, staff and researchers quick and easy access to the fixed and wireless networks at their own institution and at other institutions that offer this service. At more than 30.000 locations in more than 100 countries.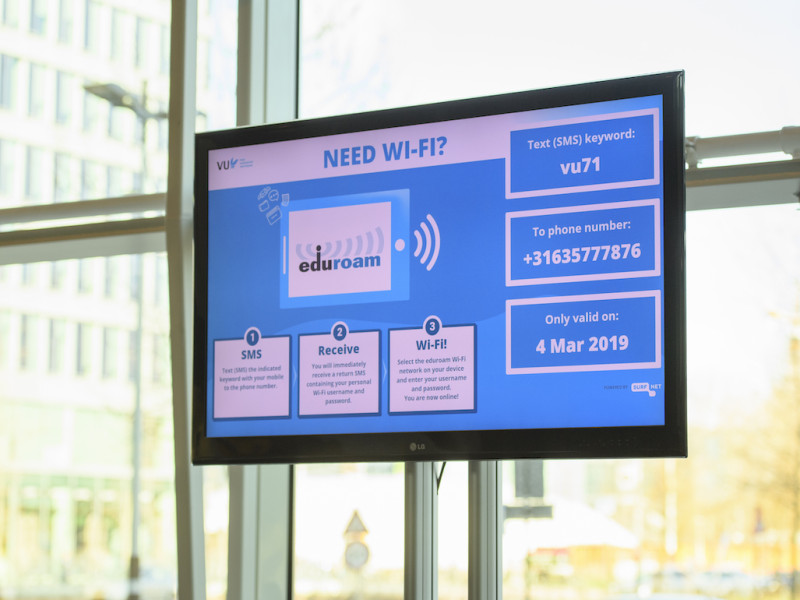 Easy access to networks of participating institutions
Students, lecturers, staff and researchers with an account can use the eduroam network at education and research institutions that offer eduroam. And in addition at a growing number of city centers, kiosks, convention centers and other public locations.
The basis for eduroam is a hierarchy of linked authentication servers via which user details can be transported securely between institutions.
If you don't have access to eduroam and you use an unsecured Wi-Fi network, we recommend you to log in to eduVPN.
eduroam Visitor Access
Not only do institutions provide guest access for students, lecturers, staff and researchers with an eduroam account from another institution; they can also give their own visitors, who do not have an eduroam account, access to the eduroam network using eduroam Visitor Access.
eduroam monitoring
Using the eduroam monitoring page you can see whether the eduroam authentication mechanism of your institution is working properly. We record test data in this respect: we check periodically whether students, lecturers, staff and researchers at your institution go online on eduroam networks elsewhere in the Netherlands. We also monitor if guest users go online at your institution.
Rate
There is no extra charge for eduroam because it is covered by SURF's basic fee Infrastructure.
Apply online for eduroam
The institution's contact person can apply online for eduroam via SURFdashboard (in Dutch).
More information