eduVPN
eduVPN protects you on unsecure networks, for example, against nearby prying eyes while on the train. The service also offers secure access to protected services when accessing from outside your institution's network.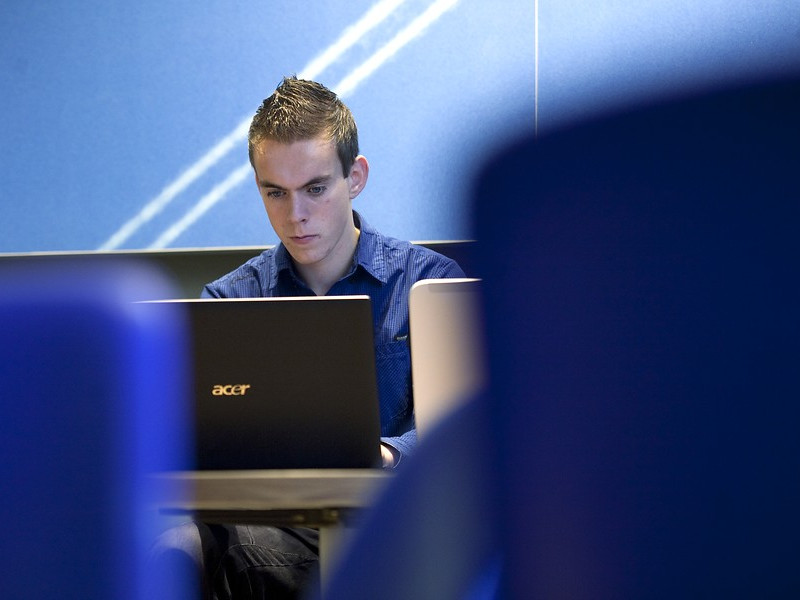 FAQ eduVPN
If you have any questions or are encountering problems, check the list of frequently asked questions and see if you can find the answer. If your question is not covered there, please contact your organisation's IT helpdesk.
What does eduVPN do exactly?
eduVPN makes sure that your computer or smartphone is no longer in direct contact with the Internet (where all sorts of people can pry). Instead, it first encrypts all the traffic and sends this to the eduVPN server or the server of your institution, which then forwards it to the websites you are trying to connect to.
Why would I use eduVPN (or another VPN)?
The use of a Virtual Private Network (VPN) has various benefits:
First of all, all your Internet traffic is encrypted. As a result, people on the same network can no longer pry and see what you are doing on the Internet. That is particularly useful when you are using public Wi-Fi connections, for example, on the train, in the library or in a restaurant. But there is also the danger of prying eyes if your home network is badly protected.
An added benefit: the website you are connected to, for example, cannot see your IP address. They will only see our IP address. This way your privacy is better protected. You can also use services that are not available from your own IP address. For example, you can only use Vodafone Wi-Fi bellen or Uitzending Gemist from a Dutch IP address. If you use a VPN when you are on holidays abroad, these sites will think you are still in the Netherlands and you will still be able to use these services!
And finally, the eduVPN server can be connected to your institution's company network. When you are using eduVPN, you have direct access to your company network. This allows you to access the programs and services at home you would normally only be able to access from a company computer. Note: you can only use this if your institution has requested this function AND has given access to your user group (e.g. 'students', 'researchers' or 'lecturers').
So, if I use eduVPN, nobody will find out what I am doing on the Internet?
Not quite. You are protected against nearby prying eyes, because the stream of data is encrypted via our servers. We treat this data as confidential and your traffic is not logged. In exceptional cases, for example, if criminal activities have been committed, we can determine which user was online at any given moment.
Remember that a VPN does not offer ultimate security: even without prying on your Internet traffic, cloud services and hackers can find ways to obtain your data.
Can I use eduVPN to circumvent internet restrictions, for example in countries or environments where internet censorship is applied?
Yes, you can use eduVPN to circumvent certain internet restrictions. When you enable eduVPN, the software first connects to the server of your preferred country (for most users: the Netherlands). You can then access anything you could access at home. This way you can use websites and services that are blocked at your location.
However, it is possible that some countries or environments will block eduVPN. In such a situation, turning on eduVPN will fail. For now we have no signals that this is happening somewhere. If there are regions where eduVPN is not working properly, we will try to fix it as soon as possible.
Keep in mind, however, that circumventing restrictions or using VPN technology is not permitted everywhere. In practice, it is not that bad if you use eduVPN to check your social media profile abroad, but in some places serious penalties apply. Use of eduVPN is at your own risk.
What does eduVPN cost?
As a user, you don't pay for using eduVPN. Your organisation pays a (modest) contribution in order to offer this service to its students and employees.
Who created eduVPN?
eduVPN was created (and is managed) by SURFnet, an organisation which provides IT services and facilities for education and research institutions. Want to know more? Check out the rest of our website.
Does eduVPN only work during business hours?
No, it also works at night, during the weekend and during the holidays. We strive to run eduVPN 24/7. Even during maintenance, we try to make sure you don't notice a thing, but disruptions are always possible. We will keep you informed of current disruptions or planned maintenance via our Twitter account.
I want to use eduVPN! What do I need to do?
First of all, your organisation must be connected to eduVPN. Check with your organisation's IT helpdesk to see if that is the case. If not: ask them to contact SURFnet. If so: you can download, log into and use the software.
I have eduroam, do I need to use eduVPN as well?
Do you connect to the internet via eduroam? From a security point of view there is no need to use eduVPN (or another VPN). However, it is possible that your institution has chosen that certain services are only available if you have eduVPN on, for example software for salary administration, a student information system or a shared network folder containing internal information.
The service eduroam is a wifi network that, amongst other locations, is available at educational and research institutions, so in order to make use of it, you must be physically in (the vicinity of) such an institution.
The service eduVPN is a service that provides additional protection for an existing network connection (wifi or wired). To use eduVPN, you must already have an internet connection, but this does not have to be from your institution: eduVPN is intended to secure your internet connection at home, in a hotel room or when visiting family abroad. To use eduVPN, you need to install and configure software on your device.
I have installed eduVPN. Am I always secure, from now on?
It depends. eduVPN only works on the computer or smartphone where the program has been installed and activated. If you use multiple devices, you therefore need to install and configure eduVPN on each device. Also, you need to turn on eduVPN before surfing the Internet. Once you have set it up, this usually goes automatically, but it is possible that the VPN connection is interrupted, for example, due to network failure. You therefore always need to check whether eduVPN is switched on.
What do I need to do when I am working on a public computer?
A public computer is never secure. You can install eduVPN on the computer, provided this is permitted by the system manager. That will secure your Internet connection. But the computer itself is still unreliable and can save or forward sensitive information. We therefore recommend that you never enter confidential information, such as passwords, on a public computer.
I cannot select my institution on the login screen.
If your organisation is not on the list, then you have not yet purchased eduVPN. Contact your IT helpdesk to see if they are interested in purchasing eduVPN.
The program asks me to enter a username and password. What do I need to fill in?
Your institution has generated login details for you. They are usually the same details you use to log into other services of your institution or similar. They often have the following format: jim.smith@myinstitution.nl. Are you stuck? Ask your IT helpdesk for assistance.
eduVPN is on, but I currently have no Internet!
This can have different causes. Try the following solutions:
• Close eduVPN and start it up again.
• Switch off the 'normal' Internet connection and switch it on again.
• Restart your computer.
• Check our Twitter account to see whether eduVPN is experiencing a disruption.
If none of these solutions worked, please contact your IT helpdesk for assistance.
Some websites don't work any more if I use eduVPN!
Some websites or services block VPN server IP addresses. You can therefore not use them as long as your VPN is switched on. You can opt to switch off eduVPN temporarily. You can decide for yourself whether it's secure enough.
I have another question!
If your question is not covered in this list, please contact your organisation's IT helpdesk.