Working towards virtual humans in the CompBioMed project
Biomedical researchers aspire to create virtual humans so they can develop personalized medicine and treatments. In this effort the CompBioMed project plays a strategic role. SURF consultant Marco Verdicchio explains how this works.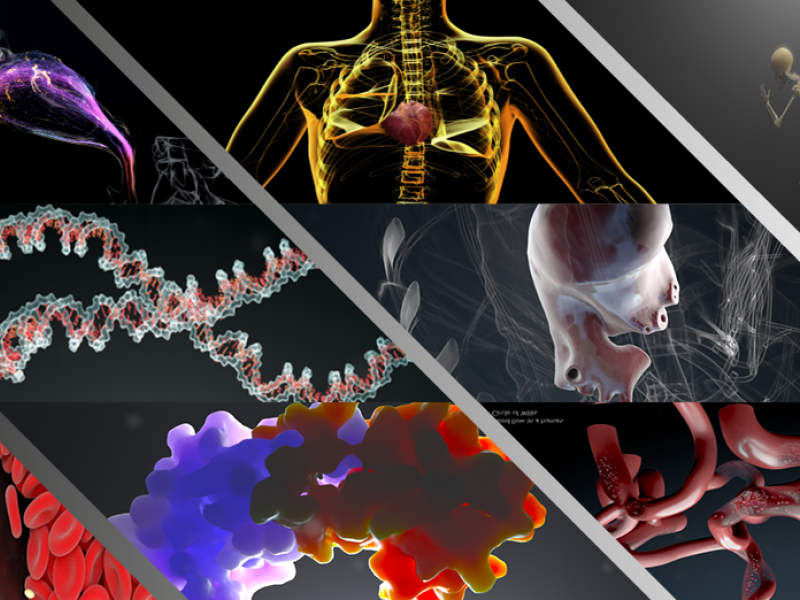 According to the European Union, scientist should grab the opportunities that high performance computing (HPC) offers to them. Consequently, the Horizon2020 programme provides for numerous projects that aim to support specific fields of study in using HPC. "Examples are meteorology and material science" says Verdicchio. "For biomedical researchers, support is organised through the CompBioMed project."
This project works with academic partners from all over Europe. Verdicchio: "Usually they are researchers or companies designing new methods for the simulation of phenomena such as blood flow or the musculoskeletal system, for instance. Alternatively, they may be using computing power to develop new drugs, or to analyse the effect of existing drugs on different illnesses."
Personalised medicine
Eventually, all these efforts have one ultimate goal: the creation of virtual physiological humans. "In other words: personalised medicine", explains Verdicchio. "So far, medical science tends to work for the generic white male between 30 and 50 years old. The ambition of personalised medicine is that one day, you will have a complete computer model that is based on scans and other measurements of your body. Having accomplished that, you would use that model to predict your reaction to certain medicines, or which medical conditions you may expect to develop at certain ages."
It is clear that this ideal scenario is still far in the future. But according to Verdicchio you may already get an impression of the kind of building blocks that are being developed right now, by watching the video Virtual Humans. "The video combines all kinds of simulations, such as blood flow and the skeleton, that are all based on real scientific measurements. They may really be used for biomedical analysis. I find it beautiful, because you can see what is within reach. This is the future!"
The realism comes at a price: all the images have been produced with the help of supercomputers. To simulate the functioning of the human body, you certainly need high performance computing.

Supporting software development and use
As one of the core partners of CompBioMed SURF co-authored the project plan. "As a supercomputer centre, our further role is twofold", explains Verdicchio. "Firstly, we help academic partners to improve the software and workflows that they develop. For instance by making them more efficient, so that end users won't have to wait days to see their results."
"Secondly, we provide trainings, meetings and support to acquaint researchers with the potential of high-performance computing in general and biomedical software in particular."
"So our role isn't different from what we normally do for the Dutch research community as a whole. But in the context of CompBioMed we pay extra attention to biomedical research."
Breakthroughs in various fields
The project is clearly producing results: that's why it was recently extended by another 4 years. But Verdicchio stresses that this doesn't mean that the new software and services are being applied clinically by hospitals on a large scale today. "Doctors are not used to working with HPC systems. Moreover, this is all truly innovative. We are still in an experimental phase, thus it's difficult to convince medical people to trust these procedures. They are understandably conservative, because they are working with people's lives."
But in the meantime, the products of CompBioMed are available for a much wider group of researchers: not only biomedical scientists but also biologists, for instance. "Services, trainings, optimised software and workflows: it's all available for the Dutch research community. We have several Dutch partners in the project, who are already sharing this new working platform and opportunities with other scientists. High-performance computing is a tool to create breakthroughs in all sorts of research fields."
Text: Aad van de Wijngaart
Marco Verdicchio
Marco Verdicchio (1985) studied chemistry in Perugia, where he obtained a PhD in Theoretical and Computational Chemistry in 2012. The next year, he started to work on combustion chemistry research as a postdoc at ENSIC in Nancy (France), before moving in 2014 to Argonne National Laboratory in the VUS, where he continued to focus on combustion modelling and atmospheric chemistry. In 2016 he joined SURF as a HPC consultant.
His work for the CompBioMed project brought him into close contact with HPC research in the biomedical field. "I'm really impressed by what these people do" says Verdicchio: "how much detail they are able to simulate and how relevant and beneficial their research is for society. It's a real honour to support them."