Value Compass supports discussion on public values in digital transformation
The ongoing digital transformation in education offers many advantages, but at the same time, it puts critical public values under pressure. This trend is increasing the need to re-examine public values, for example in terms of privacy, security, reliability, transparency, autonomy and democratic decision-making.
The Value Compass for Digital Transformation of Education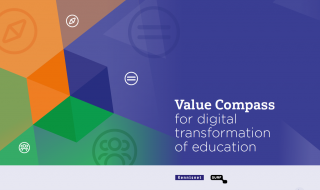 The Values Compass, developed by SURF and Kennisnet, provides a common language for conducting a dialogue about digitisation in education. By discussing the values that should be paramount in digitisation, the Dutch education sector can make better choices for new technological developments.
Digital transformation in education contributes to values such as effectiveness, accessibility, ease of use and efficiency. But it also leads to new challenges, such as how dependent are we on data? Who manages data? What IT facilities should we develop/organise together instead of purchasing them from market providers? Developments such as datafication and the increasing dependence on dominant market providers increase the importance of discussing this with each other.
In dialogue with and about the Value Compass
Which public values are we talking about? And which values should lead the way in the direction of digital transformation and how do we put them into practice? SURF and Kennisnet are each engaging in discussions with their own organisations. About these questions and about the application possibilities of the Value Compass. Does the Value Compass help resolve your specific case? Are you missing any additional tools?
Justice, autonomy and humanity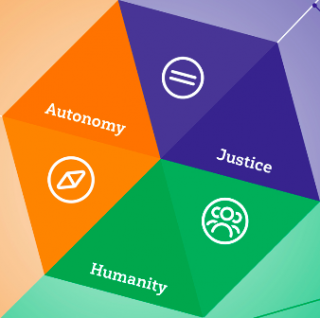 The three main educational values that are central to the Values Compass are justice, humanity and autonomy. Beneath these core values, all kinds of other values can be identified that are important for educational practice in the light of digitisation.
Value Compass for education and research
SURF and Kennisnet have worked with experts to develop the Value Compass to facilitate this discussion within education and research. The Value Compass is an initiative for the development of a common language. The compass is not about the content of education and research, but helps to discuss the values that are important in the digital transformation of education and research.