Better collaboration with Higher Education Sector Architecture
To ensure that facilities in the education chain and research are better connected, higher education is developing the Higher Education Sector Architecture (HOSA), in collaboration with SURF.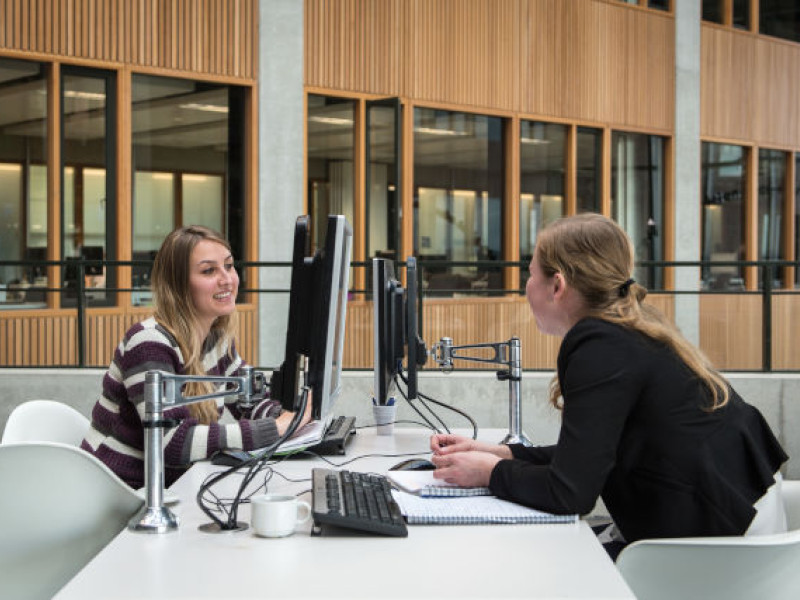 If sector partners in education and research embrace this architecture, students, teachers and researchers will experience better facilities with clear coherence. Menno Scheers is lead architect of HOSA. He explains what exactly HOSA is and where the project stands. "Creating support is now the important next step," he says.
Working with architecture
In education and research, there is increasing collaboration between institutions. Students study at different institutions, researchers from different institutions work together on a project. This should be possible without any problems, and for this it is important that technical facilities of institutions are connected. So that, for example, students from HU can easily register for a course at Fontys, and HU and Fontys can easily settle the course fees for it if desired. Or so that researchers from different universities can easily cooperate in a research project, and exchange their data safely. To name just a few examples.
"You can think of the HOSA as a zoning plan for a neighbourhood in the city. What look should the area have? How do the traffic flows in outline?"
What will it take to achieve that connection for all facilities in education and research? The core is: working with architecture. If everyone works within the same architecture when developing facilities to be used in common, we ensure that those facilities are connected. The Higher Education Sector Architecture is that architecture: ideally, everyone in Dutch education and research will work with it, as well as service providers, and chain partners such as DUO, StudieLink and NWO.
Zoning for a neighbourhood
Menno Scheers is lead architect in the HOSA project. He explains exactly what it entails. "You can think of the HOSA as a zoning plan for a neighbourhood in the city. What look should the area have? How should the area be used? How will the traffic flows run in outline? The same applies to new facilities in education and research: how do they relate to each other and how do they connect?"
In the project, architectures are being developed for several domains, currently for Flexibilisation Education, Research Data management and Identity & Access Management. With these domain architectures, the institutions collectively show where they want to go as a sector. They are so-called target architectures: what do we want our facilities structure to look like in the future. This is very useful for tenders, for example. So in doing so, the HOSA not only gives direction to the sector, but also has an impact, for example on suppliers. Ideally, they use the HOSA to help develop their roadmap.
Thorough approach
HOSA was launched as a project in early 2020. Scheers: "We took a thorough approach, because we knew that it helps to secure the interests of institutions and chain partners upfront, in the radical changes required for a working method based on a cohesive chain. In 2020, we did a lot of work to put the HOSA in place. We had many conversations to gather information and gauge needs. We also looked at the latest technical developments and best practices in architecture. And then we started designing and writing.
"In 2020, we did a lot of work to get the HOSA up and running. We had many conversations to gather information and gauge needs."
A number of principles were central to the design process. We want to design an architecture that ensures future-proof facilities, secures consistency between facilities, enables reuse and promotes cooperation between institutions.
Finally, we started reviewing. We are at that stage now, in early 2021. We are incorporating feedback from stakeholders and have also started building support in the sectors. The latter is very important, because for the HOSA to succeed, support is key. We would like everyone to come on board."
Online marketplaces
What will working with a domain architecture look like in practice? Scheers: "To establish the application architecture, we use the concept of business platforms. We use this concept because it provides insight into so-called online marketplaces. We see these emerging in various places due to increasing cooperation in the sector. They facilitate interaction and cooperation, bring supply and demand together and steer towards shared values and norms. By using the same base plate as a foundation, we provide overview and a common starting point for discussions between the many stakeholders. In addition, this base plate provides the foundation for representing various initiatives in a coherent way."
Developments in education and research require exchange between different parties, such as students, teachers, researchers and suppliers. This involves exchange of data and facilities, for example. In terms of business platforms, HOSA describes the sector facilities that facilitate this exchange. In future, the various public sector partners will provide components of these sector facilities. HOSA creates the necessary coherence and overview between these different components.
"Sector facilities based on business platforms can be set up for various activities in education and research, to which supply and demand can connect," Scheers explains. "Think of business platforms for offering education, developing education, conducting research and exploiting knowledge. All these marketplaces are modular, so you can connect to them from different areas, for example from an institution but also from a partnership or as a supplier."
Scheers continues: "What is important with our sector facilities is that they work on the basis of public values, which guarantees ownership of the information in the platforms and allows for healthy cooperation with the commercial tech giants. The underlying concept of the business platforms clarifies what issues need to be regulated in governance, for example the conditions under which you can share student data or open learning materials."
"Our sector facilities need to work on the basis of public values, ensuring ownership of the information and allowing us to cooperate with the tech giants in a healthy way."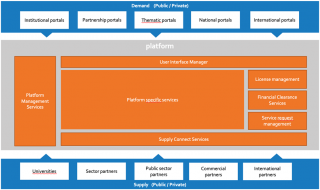 Building business platforms. Demand and supply parties can connect via generic interfaces, and can use a number of specific services and general services such as licence management or cost settlement.
"We anticipate that HOSA will make a major contribution to a facilities infrastructure that enables even better collaboration in education and research."
Contribution to even better collaboration
"So the first steps are being taken, but we are not finished yet," Scheers said. "As indicated, we are processing the feedback and have started to build support within the sector. Based on the feedback so far, we are positive. We assume that HOSA is going to make a major contribution to a facilities infrastructure that further facilitates collaboration in education and research."