CopyRIGHT project: ensuring copyright compliance when reusing learning materials
As a lecturer, do you want to use articles, scientific papers and other texts in your courses while ensuring copyright compliance? We're developing a tool that gives you insight into the reuse of digital materials, including scientific content.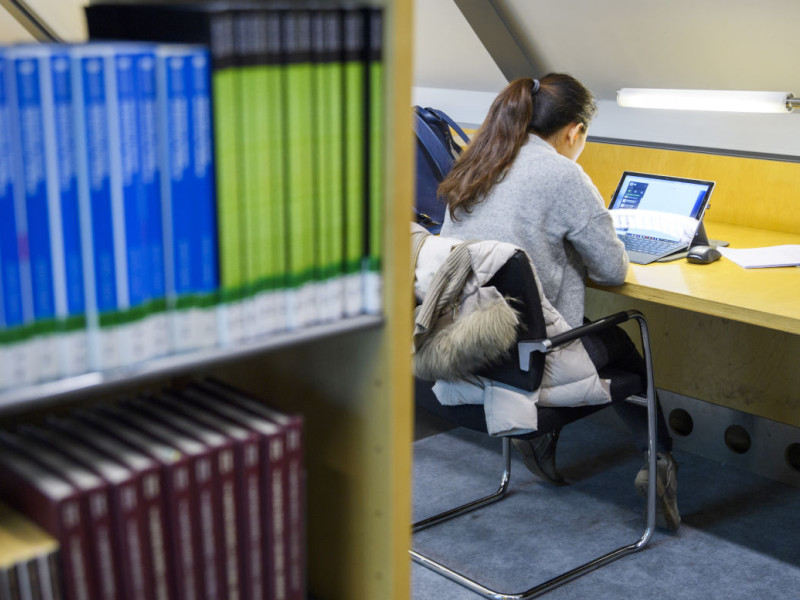 Luister naar de podcast SURF Sounds over CopyRIGHT
Bij SURF werkt iedereen samen met onze leden aan projecten, diensten en innovatie op het gebied van digitalisering. Ondanks de grote digitale component van wat we doen, is een groot deel mensenwerk. In de podcast SURF Sounds gaan we op zoek naar de mensen achter een project, onderzoek of dienst. Zij worden aan het woord gelaten over niet alleen inhoud en doelen, maar ook drijfveren, emoties en ervaringen. In deze aflevering vertelt projectmanager Karin van Grieken over haar werk bij SURF en het project CopyRIGHT.
Current situation: lack of insight, potential additional costs
As a university lecturer, you select articles and chapters of books for your students. You put these articles and books in the digital learning environment. There your students can find the content that makes up part of the course you're teaching. You often do not know whether - and how - this content is protected by copyright. This means you might inadvertently be using materials without the copyright holder's agreement, with the result that authors and publishers do not get the remuneration they're entitled to. This can lead to hefty fines for your university down the line. Conversely, sometimes you pay twice by acquiring materials your university already holds a license for. And don't forget an open access version of the article you have chosen may also be available.
Tool for using and reusing digital learning materials
Publishers (represented by the UvO foundation) as well as universities want to reduce after-the-fact checking, and they need help for up-front compliance with legislation and contracts. That's why the Association of Universities in the Netherlands (VSNU) asked SURF to work on finding a solution. We're developing a tool that gives lecturers advice on using and reusing copyrighted materials, licenses, and open access alternatives in their digital learning environment.
Lecturers will be given tailored advice on the use and reuse of copyrighted materials, licenses and open access alternatives in their digital learning environment.
Potential benefits of the CopyRIGHT tool
We believe the CopyRIGHT project has the following potential benefits:
Increased awareness of copyright among lecturers.
Better prevention of copyright infringement and fines.
Insight before and after, instead of after-the-fact checks.
Reduced administrative costs for universities and the UvO foundation.
Reports give universities insights and the opportunity to take action.
Better utilisation of the open access efforts of the VSNU and UKB within the educational system.
Better utilisation of license agreements between publishers and universities.
We prevent copyright breaches and fines: instead of after-the-fact checks, we're moving toward insights before and after.
Continue building based on the Erasmus University tool
We previously investigated 3 scenarios for the development of our tool: purchasing a commercial tool, building a new tool, or enhancing a tool that Erasmus University has already built (with roughly the same goal). The last option has been chosen. There is no commercial tool available that meets all our requirements. Commercial parties are interested in developing the required functionalities, but set their priorities themselves. By choosing the tool of the Erasmus University, we have a better grip on further development and will have a tool that fits in with what Dutch universities need in the best possible way.
What are the next steps?
We have made mock-ups and take the feedback that we collected during the user sessions into account. In this way we ensure that our ideas match what universities require. We are going to create a pilot version, and involve stakeholders from the universities and university libraries in this process. We want the pilot version to be available in 2020, and to start conducting pilots with 3 universities. At the same time, we continue developing the tool and create a reporting functionality. This ensures that universities have an overview of the (re)use of digital learning materials and can share this with the UvO foundation and publishers. In 2021 we want to deliver a tool that is used by as many universities as possible.
Collaborating to develop the CopyRIGHT tool
The CopyRIGHT project is a collaborative effort between SURF, the universities, and the UvO foundation. This project will run from 2019 to 2021. Are you or your university interested but not yet affiliated? Get in touch with project manager Karin van Grieken. We would love to give you information and get you involved!