Improve lab skills? Use interactive videos
Bio-Pharmaceutical Sciences students experience high pressure during practicals because they still lack the skills to perform actions properly. Leiden University therefore developed interactive videos on these skills. This leads to better learning results, lower study pressure and less workload for lecturers and supervisors of practicals.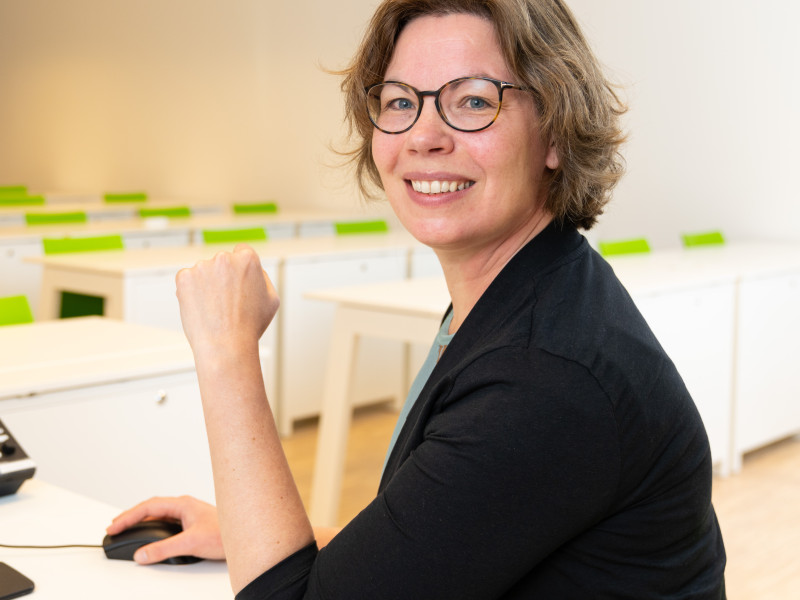 Marjo de Graauw started her career as a drug researcher. She switched to teaching because, when supervising internships, she noticed that students were insufficiently trained in everyday skills you need when doing research. Leiden University originally appointed her as a lecturer with innovation as a secondary task. Now, teaching innovation and supervising other lecturers is her main task.
She says: "When I joined the university, we were still giving 'cookbook practicals': students were given ready-made protocols that they had to carry out. It was a matter of following instructions, but they were not given enough about why they were performing certain actions and what the effect of those actions was."
So she set to work. She introduced research practicals, in which students design and carry out their own research and then discuss the results and conclusions of the research with the teacher, fellow students and practical supervisors. "As a result, we saw that they already had a much better understanding of why they were doing what, but we also saw that while preparing for a practical, they still couldn't visually imagine what a certain action looks like and what materials they need to do it."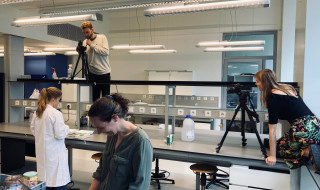 Visualising scenarios
As an education innovator, De Graauw obviously knew how great the effect of videos as preparation for learning actions can be. She also knew that while just watching a video provides a good learning return, you can increase that return by asking questions during the video. Thus, the idea of developing interactive videos was born. At a few moments in the video, multiple-choice questions come up. The student then sees the effect of his or her chosen answer.
De Graauw: "We sat down with our whole team and brainstormed about all the mistakes students have made during practicals over the years. The extreme scenarios often contain the most humour." For example, there is a video where students learn how to use a separating funnel. Once the liquid has been poured into the funnel, the question follows: is everything now ready to start shaking? If they click 'yes', the person starts shaking without a cap on the funnel and the liquid flies around. In another video, you can see what happens when you want to evaporate liquid to dry something, but you forget to poke holes in the lid, preventing the liquid from escaping.
"This way we encourage reuse and prevent the same wheel being invented elsewhere"
Stimulating reuse
Funding from the Open and Online Education Incentive Scheme has currently enabled De Graauw and her colleagues to develop 35 interactive videos, which are available for free on the national website www.labprep.video. This will be a large community where more interactive lab videos will be shared. The videos will be made course-independent and easily customisable by changing existing questions or adding their own. Teachers who want to use other questions can therefore still use the developed videos. "This way, we encourage reuse and avoid reinventing the same wheel elsewhere," says De Graauw.
Also available on the aforementioned website is a teachers' guide with all the lessons learned by the team. "It really contains everything from a budget plan to the materials you need, the preparations you need to make when shooting videos and the templates for writing good scripts."
"Leiden University can already save 25 per cent on deployment of student assistants as practical supervisors"
Results
Leiden University has been using the interactive videos since the end of 2022. Research among students shows that they rate the interactive storylines highly: 85 per cent prefer them. As many as 95 per cent of students have watched the videos in a second-year practicum, most of them even several times.
De Graauw checked in various ways with the practicum supervisors whether they felt students' independence had increased. This proved to be amply the case. Indeed, Leiden University can already save 25 per cent on the deployment of student assistants as practical supervisors. Student assistants also indicated that they found that discussions with students are of a much higher level. And assistants now enjoy their work more because they do not have to answer the same questions about practicals 30 times.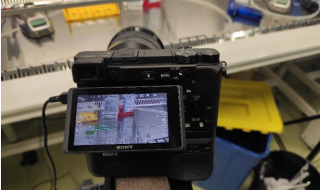 Scaling up is difficult
It is clear that this approach works. That is why De Graauw finds it such a shame that the budget has run out, when the national website has just launched. "Grants almost all focus on educational innovation. Whereas we need money to scale up from a successful pilot; to make more videos and thus expand the website. There are hardly any budgets for that now. Not from the university, not from the government. Maybe we should look for companies that want to sponsor a video," she thinks aloud. "Because we have many more topics we would like to make videos about. We also get requests from other courses at our university, and from courses elsewhere in the country. That is now on-hold and that is, of course, incredibly unfortunate." Anyone with ideas or who sees opportunities for scaling up is welcome to contact m.de.graauw@lacdr.leidenuniv.nl.