SURF Green IT Maturity Model
How sustainable is your institution? The SURF Green IT Maturity Model (SGIMM) gives you a quick insight into the role IT has in greening your organisation. Download the model and perform a scan right now.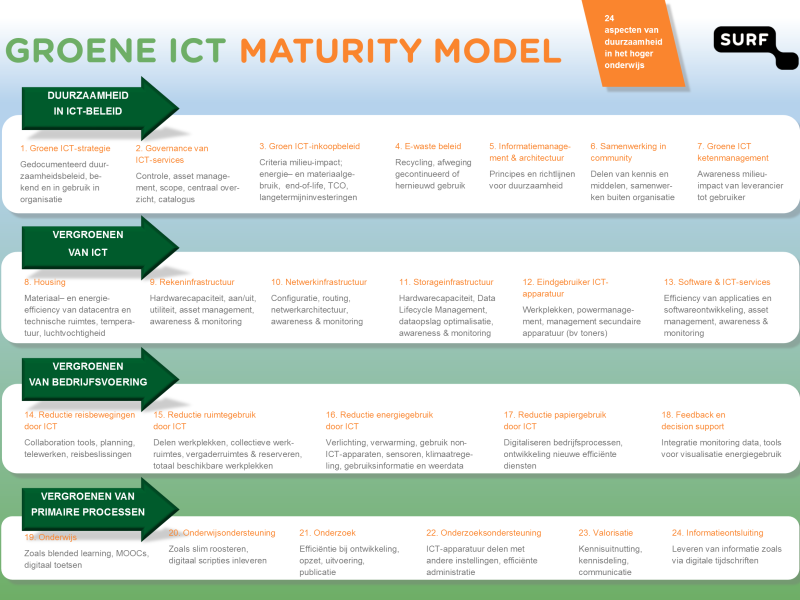 Use of the SGIMM
SURF developed the SGIMM in collaboration with the Dutch higher education sector after a demand had emerged for more insight in the way IT can contribute to the environmental sustainability of institutions. Organisations can use the model to generate a quick scan of the maturity of Green IT, discuss the status quo and to identify areas of improvement.
SGIMM documents
The SGIMM Toolkit consists of two documents:
Suitable for any organisation
Even though the SGIMM was developed for schools, universities and research institutions, it can be used by other organisations. The model is designed in such a way that the first 3 domains can be applied in any organisation. In addition, organisations must develop a sector specific domain themselves in order to include the primary processes. If you have developed such a domain yourself, we invite you to share it with us. We will add it to the model for other organisations to use.
More information
If you have any questions about the SGIMM, do not hesitate to send us an email at mvo@surf.nl.