Visualisation: more insight into your data
Our Visualisation service allows you to visualise your own datasets on your desktop. This makes it easy to identify connections between data or gain other insight into your datasets. SURFsara offers a powerful remote visualisation service that combines high performance with ease of use.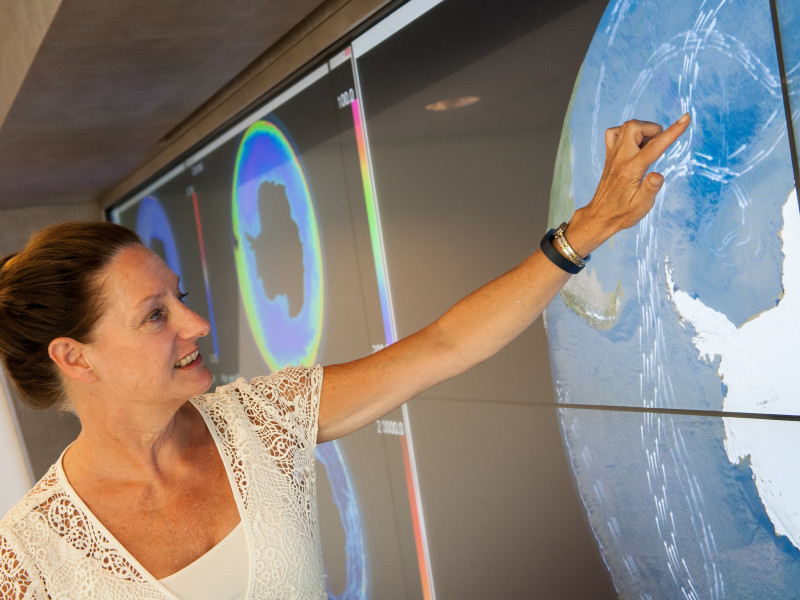 Insight into your datasets
Visualisation is an important aid for gaining insight into your sets of research data. In many cases, numerical data analysis provides too little insight. Visualisation give you a good first impression of the results, allowing you to study interesting data trends, check the accuracy of results and present the results in an understandable way.
Parallel data analysis and visualisation
More and more researchers are using parallel HPC systems, such as the Cartesius supercomputer. These systems often generate extremely large datasets, requiring researchers to have parallel systems for data analysis and visualisation. SURFsara is responding to this demand.
Remote visualisation
SURFsara offers you the opportunity to perform remote visualisation by means of Cartesius and HPC Cloud. Both use GPUs for high-performance visualisation. Therefore when performing calculations on Cartesius, you can easily visualise your data. 
Scalable visualisation
Visualisation allows you to use a large number of nodes and GPUs, which in turn make it possible to visualise large datasets in various scales. The resulting visualisations are much larger than what is possible on a PC or laptop. These visualisations can be viewed on your own desktop system. This requires a modest amount of bandwidth – a typical office network (100+Mbit/s) is usually sufficient.
Access
This service is available to higher education and research institutions. As a researcher you can be granted access on the basis of an existing contract or through SURF. Other research institutions or departments can request a quotation from SURFsara. We have set out the options below.
Access via SURF for individual researchers
As a researcher at a SURF member institution, NWO institute, or KNAW institute, you can get access to the service at no expense by submitting an individual request to SURF. To do so, please go to the SURFsara application form. We will evaluate your request based on (1) scientific aspects in relation to the resources/capacity required and (2) technical feasibility. Depending of the level of complexity, this procedure can take 2-6 weeks.
In all publications arising from work you have done on the national e-infrastructure, we ask that you include the following text: 'This work has been performed on the Dutch national e-infrastructure with support from the SURF cooperative.'
Contract with your institution
It is possible to enter into a contract based on the total use desired or estimated by your institution. In this case, instead of researchers from the institution having to submit individual requests, the computing capacity will be available on-demand. Rates depend on the size of the service bundle required by your institution. If your institution currently does not have a contract for this service, please get in touch with your local ICT service or contact SURFsara at info@surfsara.nl.
Small and medium-sized enterprises and the industrial sector
Businesses also have access to SURFsara's infrastructure and expertise. To promote innovation in small and medium-sized enterprises and the industrial sector in the Netherlands, SURFsara is working together with the Ministry of Economic Affairs on the Impact2 project. This partnership makes it possible for innovative companies in the Netherlands to carry out pilot projects at no expense. As a result, they gain insight into the opportunities afforded by large-scale computing capacity or data processing for simulations, modelling, data science and machine learning, among other things. SURFsara contributes its expertise in e-infrastructure to this end. If the pilot project leads to a follow-up, we can provide you with a customised quotation (specific conditions apply). Please contact SURFsara at info@surfsara.nl.
Support
Users can always count on us for support. SURFsara provides support for use of the visualisation cluster and the installed software. For example, we can help you with distributed visualisations of large datasets, for which we use visualisation software such as ParaView and VisIt. You can consult online manuals for suggestions regarding better performance, and more.
Helpdesk
You can contact our helpdesk by telephone or email, but we can also assist you in person. If you have any questions, or want to report a problem, please send an email to helpdesk@surfsara.nl or phone +31-208001400. The helpdesk is available during office hours (9:00–17:00).
If you would like specific advice about developing and integrating visualisation methods and applications or about large-scale parallel visualisations, please get in touch with our consultancy service.
Contact
More (technical) information regarding the use of Visualisation can be found on the pages with user information. For further questions, please contact us at info@surfsara.nl.
This is an optional SURF service.