National Platform for Applied Sciences: Increasing the visibility of applied sciences together
Applied Sciences generate valuable knowledge and products for use in professional practice and education. Increasing the visibility of all this information would allow the knowledge and products to reach even more people than they do now. We are developing the National Platform for Applied Sciences to help make this possible.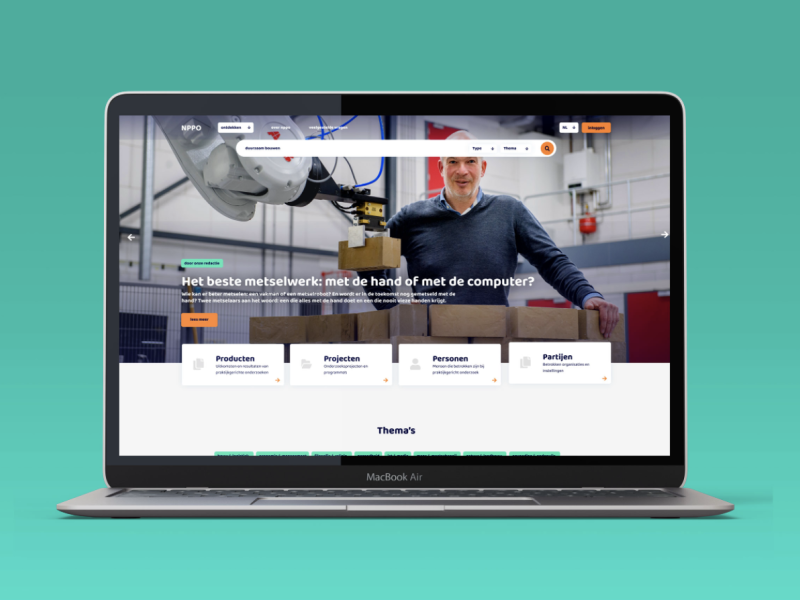 Applied research findable and accessible
Universities of applied sciences perform a great deal of applied scientific research. This contributes to educational reform and innovation by corporations and civil society. The results of this research can take various forms. In addition to articles, applied science can produce prototypes, protocols, models and instructional materials. We want to make all of these results more easily findable and more accessible to a wider audience.
Applied sciences in particular are extremely valuable to education and society, and must therefore be readily accessible.
Goal: a web of research information
Our goal is to make it easy for researchers and professors to share information and knowledge about Dutch applied research on this central national platform. This way, we will make this material available to fellow professionals at other universities of applied sciences, but also to a wider audience, such as journalists and anyone interested in this subject. This information and knowledge should then also be easily shared on other existing platforms. Within this innovation project, we are therefore developing a national platform with various functionalities and applications to create an insightful and open web of research information.  This will contribute to the goal of open science, to which all universities of applied sciences have expressed their commitment.
Associate professors, lecturer-researchers, research support staff, IT and policy makers collaborate in this project to increase the visibility of applied sciences.
From blueprint to mock-up
During the first phase of this project we interviewed researchers, professors and other end-users about their wishes, ideas, experiences and suggestions for the national platform. Meanwhile, we have prepared a blueprint for this platform, including a proposal on to translate these wishes into a functional design. Together, both the project team and working groups with many representatives from universities of applied sciences, are now taking the next steps to realise this platform. We will start building the platform and future users will test the tool: professors, teachers, researchers, journalists and others.
Researchers are the suppliers, users and ambassadors of research results, and therefore important end users in the context of this project.
Universities of applied sciences improve access to research
Twelve universities of applied sciences take part in this project, led by AUAS (Amsterdam University of Applied Sciences), along with the Netherlands Association of Universities of Applied Sciences (NAUAS), Taskforce for Applied Research SIA, SURF and HKI (HBO Knowledge Infrastructure). The project is funded by the Dutch Ministry of Education, Culture and Science and runs from 2019 to 2022. In 2018 NAUAS, SIA, HKI and SURF published a report about opportunities for improved visibility through communal changes in the infrastructure. This inspired the launch of the National Platform for Applied Sciences project.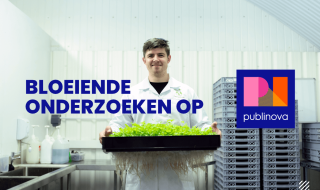 Frequently asked questions
Below you will find the frequently asked questions about the project.
Is your question not here? Then please contact us.
Which colleges are participating?
ArtEZ 
Breda University of Applied Sciences 
Codarts 
Haagse Hogeschool 
Hanzehogeschool Groningen 
Hogeschool van Amsterdam (penvoerder) 
Hogeschool van Arnhem en Nijmegen  
Hogeschool der Kunsten Utrecht 
Hogeschool Utrecht 
Saxion 
Van Hall Larenstein 
Zuyd Hogeschool  
These are the universities of applied sciences that have delegated a director to the Strategic Council, which fulfills the role of commissioner for this project. 
In addition, almost all the other universities of applied sciences are involved in the project in one way or another, for example, because staff members participate in one of the four working groups or have been interviewed for the purpose of designing the platform. These include the following universities of applied sciences: 
Aeres Hogeschool 
Amsterdamse Hogeschool voor de Kunsten 
ArtEZ University of the Arts 
Avans Hogeschool 
Breda University of Applied Sciences 
Christelijke Hogeschool Ede 
Codarts Rotterdam 
De Haagse Hogeschool 
Design Academy Eindhoven 
Driestar Hogeschool 
Fontys Hogescholen 
Gerrit Rietveld Academie 
Hanzehogeschool Groningen 
HAS Hogeschool 
Hogeschool de Kempel 
Hogeschool der Kunsten Den Haag 
Hogeschool Inholland 
Hogeschool iPabo 
Hogeschool Leiden 
Hogeschool Rotterdam 
Hogeschool Utrecht 
Hogeschool van Amsterdam 
Hogeschool van Arnhem en Nijmegen 
Hogeschool Viaa 
Hogeschool voor de Kunsten Utrecht 
Hogeschool Windesheim 
Hotelschool The Hague 
HZ University of Applied Sciences 
Iselinge Hogeschool 
Katholieke Pabo Zwolle 
Marnix Academie 
NHL Stenden Hogeschool 
Saxion Hogeschool 
Thomas More Hogeschool 
Van Hall Larenstein 
Zuyd Hogeschool 
What is the schedule, when can we expect the platform?
By March 2021, the design of the platform will have been delivered in outline form. In May 2021, the Proof of Concept (POC) of one link and a mock-up of part of the technology behind the platform will follow. The schedule for delivery of the entire project is mid-2022.
How is this project funded?
The Ministry of Education, Culture and Science is making a total of 900,000 euros available. SURF is contributing EUR 200,000. Various universities of applied sciences are contributing manpower and expertise, for example by having staff members participate in pilots or working groups.
How can I participate in this project as a college or as an individual working in college?
You can participate as an individual in several ways: 
Sign up for one of the working groups around Metadata, Privacy, Communications and Governance. 
Make yourself available for one of the testing of the designs, now or in a future phase.  
Do you have a good idea, knowledge of certain source systems, experience in editorial work or some other expertise you think we should really use? We are always open to consultation! 
It is also possible for a university of applied sciences to participate in this project, in consultation with the Open Science Advisory Board.  
 
Contact Eva Woertman (eva.woertman@surf.nl) about participating. 
What is the target audience for the platform?
The platform will be accessible to anyone with an interest in and knowledge from practice-based research. A number of target groups will be actively involved and served: 
Lecturers and other researchers 
Educators
Professionals from the professional field 
Media
In what ways are researchers involved in this process?
We spoke with 20 - 25 researchers in the first phase of this project, both professors and teacher-researchers, from over 10 different colleges. These interviews, workshops and group discussions have formed the basis for the next phase plan. 
In the current phase, 32 people have been interviewed so far, 8 of whom are researchers. At this time, additional interviews with researchers are planned for the coming weeks.  
The project team involves researchers in the following ways: 
A lecturer participates in the steering committee to represent the perspective of researchers there; 
two researchers participate in the ThinkTank; 
a lecturer was involved in the tendering of the building party;  
a lecturer and a researcher were involved in the tendering of the UX design party;  
a lector participates in both the Communications and Governance working groups. 
How will target groups other than researchers be involved in the project?
In all phases, teachers and professionals also spoke in interviews. The design of the platform is iterative, and after each iteration the design is discussed with various people from the different groups.  
 
The Think Tank, the independent advisory board for this project, will also include perspectives from educators, journalists, and communications consultants.  
 
In March-April 2021 an extensive test round will be held, during which design, functionalities and content developed by an editorial team will be evaluated and tested. This will be done not only with researchers, but also with people from the media, professional practice and higher education.  
How are the links established? Which systems are used as source files?
In cooperation with the working group Metadata and Mark de Jong (in the position of NPPO IT architect) we will choose standards for linking systems. For each system will be determined what information may be exchanged. We will provide the necessary flexibility in the platform. 
At the moment we have "in scope" to link with source systems based on SURFsharekit, PURE, Metis and the RIS system of Saxion. Linking with other systems based on one of the offered links is of course possible. 
There are also ambitions to link with other systems where information from the platform can be used, or where additional information can be retrieved. 
If you post content on the platform, where is that content located? At SURF in a cloud environment or at the knowledge institution itself?
The goal is to have the platform operate on a metadata basis whenever possible. Content related to the research will be in the source system and will be referenced. Where possible, we will show it in the platform though. Content that is used to enrich the metadata (for example, an interesting photo that is not in the source system) can be stored on the platform. Storage will then be the responsibility of the platform administrator, and that organisational form is still being determined in this project.
How do we ensure that researchers only need to keep track of their data in one place?
One of the basic principles for the platform is the "create once, publish everywhere" principle. Where possible, we will apply this principle, for example by linking up as much as possible with exchange standards and retrieving as much existing information as possible, for example from universities of applied sciences. To what extent this will succeed and how exactly we will give it shape is still part of the research, and naturally also depends on the possibilities and conditions offered by the source systems of the universities of applied sciences.
Is there a link between this platform and the digital competence center (dcc)?
Both this project and the dcc fall under the open science program of the Association of Universities of Applied Sciences (VH). This program was created because much is happening in the area of open research in higher education. This requires, among other things, the necessary research support. To ensure that support for open research is properly organised, it must also be given administrative attention, and a joint programme can help in this regard. 
 
The results that the Metadata Working Group produces for the platform are also useful for the dcc. Conversely, the dcc's infrastructure working group is again useful for the platform. So there is not so much overlap, but they are complementary. There is good communication between the two projects. 
How much overlap is there with other platforms such as Researchgate and how much need do users have for "one more platform"?
Indeed, there are already several organisations and platforms that have been working on making research available for some time. This project was started because it was identified that despite the existing initiatives, the necessary visibility and availability of practice-based research was lacking on a national level. In this context, "national" means transcending colleges and disciplines.  
In order to properly monitor whether this signal was correct, we conducted a preliminary survey among researchers and their contacts in the field before the start of the project. This underlined the need to improve the current knowledge infrastructure: the conclusions are in a report.  
In the subsequent stages of the project, we will also enter into detailed discussions with various (prospective) users about what the platform needs to offer in order to provide real added value to existing platforms and initiatives.  
 
It remains a fact that researchers already have to or can provide information in many places. An important part of the design of the platform are therefore the links to social media, for example, and the links that ensure that as much as possible of the information already registered can be reused on this platform. 
The success of the platform is partly determined by the supply of participating colleges. Are there or will there be initiatives, in addition to the development of the platform, to bring the quality of research registration of colleges to a good level?
An exploration of the needs in dealing with research information in higher education has recently been conducted. By research information is meant everything that describes research, such as data on individuals, funding, results, etc. In the academic sector and in a few cases in the higher professional education sector, so-called current research information systems (CRIS), such as PURE from Elsevier, are used to register this data. There are quite a few differences between the universities of applied sciences and research universities, for example in the form of research results or the extent of the research. Different universities of applied sciences will therefore have different ways of dealing with research information. A report has been published on this subject which offers guidelines for dealing with research information.
Frequently asked questions about the platform
We are currently developing the platform. Below you find the frequently asked questions. Is your question not here? Please contact us.
Publinova & information management
What information can be shared on the platform?
Publinova will soon feature pages with:
- Products; the results of research that can be viewed and/or downloaded, and information about those products 
- Projects; projects that are in preparation, underway or completed can have their own page with information
- People; profile pages with information from and about researchers (professors, teacher-researchers, etc.) and their areas of expertise 
- Parties; the universities of applied sciences, cooperation partners, partnerships etc. who wish to do so, can profile themselves on a page on Publinova
- Editorial items: contributions from the editorial staff about themes on which research has an impact. These can be articles, interviews, infographics, videos or other expressions. 
In addition, there are pages where all available information on a specific domain is clustered. Of course, information is also shared about the purpose and organisation behind Publinova, and practical information about how to work with the platform. Which information on products, projects, people and parties is shown depends on what the researchers and colleges involved make available.
How does this information end up on Publinova?
Most information is supplied by the source systems of the institutes affiliated with Publinova. SIA, the Netherlands institute for higher education, can also supply information. The source systems involved differ per university of applied sciences. They can be institutional repositories such as SURFsharekit, a CRIS such as PURE, or other systems. One example is a well-structured CMS for a university of applied sciences website. Information is exchanged as much as possible in accordance with standards. 
In addition, it is possible for end users to add information themselves. In order to guarantee the quality of the information, there may be restrictions on this. For example, it is only possible for staff members of universities of applied sciences to post new products. This is controlled by logging into Publinova via eduID.
If there are several sources, how do you prevent duplicate information from appearing on Publinova?
Supplying duplicate information is a real problem. For example, there may be people who work or have worked for several universities of applied sciences, and whose information is therefore in the various systems. There may also be products and projects on which different universities of applied sciences work together and which are therefore in different places. 
Where possible, technical functions will be built in that check and compare data and thus detect possible duplications. In the event of doubt, this will, where possible, be submitted as a suggestion to those involved (e.g. authors of a product, or research support staff involved in projects, etc.). 
Is there an editorial team that edits the information on Publinova, for example in terms of theme?
There is an editorial team involved in Publinova that publishes regular items highlighting the social impact of practice-based research from various angles. These editors always work together with various stakeholders in the field of applied research. The target group is mainly interested visitors who are not yet closely involved in applied research.
The information on the other pages is not edited; the responsibility for that information lies with the researchers and their communication advisors and supporters. They have the opportunity, within the framework of their university of applied sciences, to present their research in the way that they think is best. 
However, agreements will be made about the metadata: for example, which metadata are compulsory and which metadata model will be used. 
Publinova & other platforms
How do you see the relationship between this platform and the websites of the universities of applied sciences themselves?
We agree with each participating university which information will be shown on Publinova. Often, the administrators of the college's website are involved in this; sometimes there is even a direct link whereby the website's CMS functions as Publinova's source system. In this way, we try to handle information efficiently.
In addition, we offer functionalities that make it easy to embed information from Publinova on the university website, or vice versa, and the editorial items can also be used for the communication strategy of individual universities where appropriate. Publinova can thus also be a useful source of information for communication advisors.
College websites and Publinova complement each other; college websites often focus on the work of that specific college, whereas Publinova works across colleges and brings together information from different places. In addition, Publinova truly focuses on applied research, whereas this is often only one of the topics on a college website, next to information on education for example. 
How does Publinova relate to the HBO Knowledge Bank?
Publinova and the HBO Knowledge Bank share some common characteristics: both are fed by a number of source systems of the universities of applied sciences, and both display products of applied research. Both aim to share knowledge and transcend the boundaries of a university of applied sciences.
There are also a number of important differences:
- Publinova has more source systems than the HBO Knowledge Bank.
- The HBO Knowledge Bank offers space for student products and research from lectorates, with the former forming a large majority. Publinova does not focus on student work, partly because this is already done very well in the HBO Knowledge Bank
- HBO Kennisbank is exactly what the title says, namely a good knowledge base; Publinova also wants to provide space for interaction, articles written by editors and perhaps more activities in the future.
The HBO Knowledge Bank and Publinova thus complement each other, both working to realise open science ambitions. The organisation behind the HBO Knowledge Bank and Publinova's project team are also in close contact, ensuring that developments on both platforms are well coordinated.
What will be the relationship with Researchgate and LinkedIn?
Publinova offers the possibility to easily share information such as research results or projects on social media, including LinkedIn. A link with Researchgate is still being explored.
Publinova & functionalities
Are there opportunities for regional use of this platform?
Publinova is a national tool that makes all practice-based research more accessible for all interested parties. If there is a regional partnership of researchers who would like to profile themselves on a national level, they are welcome to use Publinova. 
Are the source systems for research data, data repositories, also being considered?
At the moment, it is really about information about research and the intermediate and final results of that research, but research data is excluded. This may change in the future, but at the moment, no links are made to data repositories and research datasets are not shown.