SURF's organisational structure
SURF is a cooperative with more than 100 members. SURF is owned by its members: we jointly set its direction.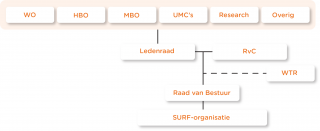 Our members are represented on the Members' Council, the highest body within the cooperative. The Members' Council appoints the Board of Directors, which, among other things, determines SURF's policy and strategy. In addition, the Supervisory Board and the Scientific Technical Council (WTR, an independent advisory body) are part of the organisational structure. The members of the Scientific Technical Council are also appointed by the Members' Council.
Each institution that is a SURF member appoints a Coordinating SURF Contact (CSC). Various communities and special interest groups (SIGs) are also active within SURF.