Educational data, study data, research data and medical data is very valuable. Commercial parties are also aware of that. They invest heavily in services that enable the use of various data.
The use of these services has many benefits, but also raises questions about the legal and functional control over the data, for example. For the time being, market developments are causing a scattered playing field in which the roles of the various players are still far from clear. This requires a clear positioning of SURF's members to play an important role in this playing field and to ensure that they can use data under their own conditions.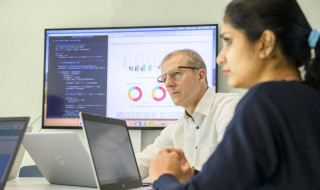 Ambitions for Data control
The SURF members have a joint vision of how they want to use the value of educational data, study data, research data and medical data in a secure, reliable and private way, also in their dealings with each other, and how they exchange knowledge and expertise in this regard.
This vision highlights the legal, ethical, technological, contractual, organisational, managerial and financial perspectives. The vision steers the organisation of professional federated data services for data storage, use, distribution and archiving. Agreements on standards and architecture steer the infrastructures that are required to use different types of data. The vision is based on the applicable laws and regulations, the implementation of the FAIR principles and the protection of public values, such as openness and democratic control. There is a clear division of roles and tasks between different parties within and outside the cooperative, such as VSNU, VH, the MBO council, NFU, NWO, OCW, DANS and the Netherlands eScience Centre. There is a certain vision of how SURF's members can best contribute their interests in a complex international playing field that involves major political and commercial interests.
Activities for 2021-2022
In order to realise these ambitions, we will continue to provide existing services and continue a number of projects already underway. In addition, we also need to change course and start up new projects.
SURF 2-Year Plan 2021-2022
Activities for Data control
Main changes in direction
Development of the members' joint vision for data sovereignty and the development of a strategy and roadmap for an infrastructure for the durable storage, use, distribution and archiving of different types of data, taking into account public values.
Translation of the vision into a functional and technical target architecture for the use of data within other themes, such as research data management, making education more flexible and IT infrastructure for education and research, and the coordination of the coherence and consistency of the various initiatives.
Development and connection of knowledge and expertise and initiatives, such as the Architects Council, the National Platform for Open Science, the European Open Science Cloud, RDM, the Acceleration Plan for Educational Innovation with IT, the Going Digital programme, RIO, Higher Education Chain Management Consultation, Special Interest Groups and so on.
We will implement the changes in direction for 2021-2022 in the following new projects:
SURF 2-Year Plan 2021-2022
Change of course for Data control
SURF 2-Year Plan 2021-2022
Available budget for Data control