XR in education
What are the possibilities, opportunities, applications, challenges and obstacles of eXtended Reality for education? Who are engaged in this? Where are we now and where are we going? Read about it in the issue XR in education.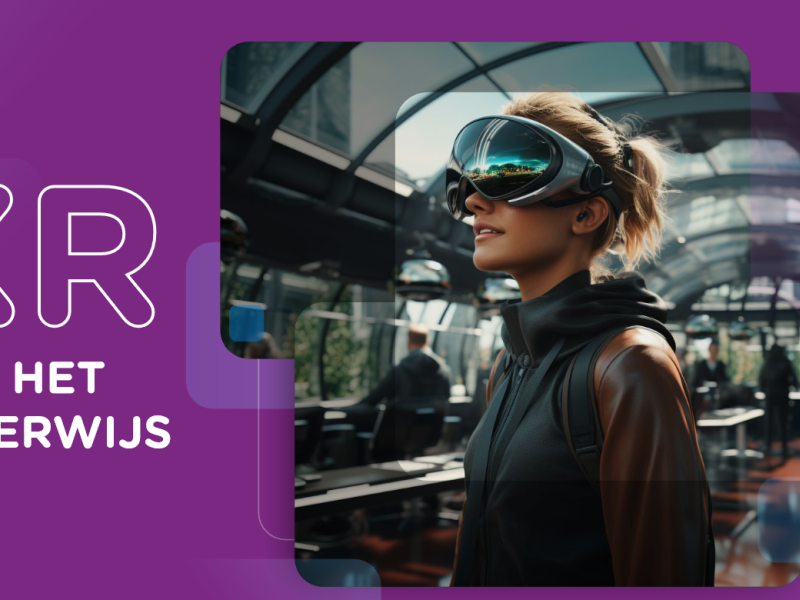 Customisation, speed and Europe
Collaboration on XR within education seems perfectly logical at first glance. The challenges are considerable, the work is intensive, human resources are limited and the need for new applications and uses is steadily increasing. Yet collaboration is still far from self-evident.
And this applies both within educational institutions themselves and nationally and internationally. It is rarely a matter of unwillingness but rather the age-old unknown makes unloved or a lack of time and resources. What is nice, however, is that the cooperation that does exist really pays off and tastes like more.
"We very much believe in the benefits of sharing."
State-of-mind
"Collaboration is very natural for us because we develop open source. And it also has to do with a certain state-of-mind. We believe very much in the profit of sharing. Especially in the long term," said Arno Freeke (TU Delft). Gert-Jan Verheij (RUG) recognises this. "In VR, it is also nice when you can build on someone else's work. That is the case with Virtual Kindergarten. I was made aware of an app developed in Germany on classroom management. The colleagues there had no problem giving us the source code and framework."
Clear agreements
Giny Verschoor also believes in the power and added value of cooperation. "At the Police Academy, we have always been involved in innovative education and digital learning. Previously, we did that in cooperation with Windesheim students, among others. Now we have asked Utrecht University to investigate whether education using VR is more effective than regular education. When it comes to collaborating with commercial parties, by the way, it is very important to make clear agreements on things like licences and source codes. We learned a lot from that."
"Working together is necessary to stand strong."
Stimulated and supported
Working on XR is challenging. It requires customisation and you need people with sufficient knowledge and experience. This is another reason why Verheij says it is important to work together and develop applications you can share with each other. "At PleitVRrij, we did that with Utrecht University and the Free University. If you cooperate across institutions, it is especially important that you have a good click with each other and that you are stimulated and supported both substantively and administratively from your own organisation."
Big Lego box
Harry Bitter (WUR) is looking with fellow institutions to see if the virtual practice lab can be taken further. "The app is available to everyone so that is not where the challenge lies. The challenge is that everyone wants it slightly different. I like to compare it to Lego. We now have the right blocks to make a car that represents one particular test. But people also want to be able to do other tests, they want to build a boat or an aeroplane." Where Bitter eventually wants to go is a big Lego box with all different cubes so that multiple tests become possible. "But who is going to design, build, fill, manage, maintain and renew this box? Who will make sure all the equipment is up-to-date and available? That is best arranged centrally. For example, by SURF or a commercial party."
"It is a new way of training for healthcare."
Connecting virtual worlds
Collaboration is especially important with a technology like XR, thinks Gül Akcaova (SURF). "Many challenges await us in many areas. Think of things like organisation, technology, procurement, data, privacy and laws and regulations." One of the challenges is to connect the different virtual worlds. "When you put on VR glasses in Amsterdam can you participate in a session in Eindhoven or Groningen? If a lot of students go online at the same time, the question is whether the network can handle this. We really need to start looking at this seriously together."
European parties
XR ERA is an open, independent and international platform. The platform facilitates connections between people from higher education, research, industry and other fields at the European level. This allows them to share resources and knowledge to create better XR experiences with lasting impact. "A key reason for establishing XR ERA is Europe's increasing role in XR grants. To qualify for these, you have to join forces with several European parties. And in addition, we are increasingly working with parties outside Europe, such as the University of Michigan," said Thomas Ginn of Leiden University.
"Both the low-hanging and the 'high-hanging' fruit deserve attention."
Who does what at what level
The exchange of experiences, ideas and concepts, while improving, still happens too little, Ginn believes. "It remains difficult to get a good overview of who does what at what level. In the Netherlands, internationally but sometimes also within your own institution. For example, I once found out that two faculties were working on exactly the same thing independently of each other. That's a shame and we need to avoid it."
Standing strong
According to Paul Melis and Casper van Leeuwen (SURF), working together is also necessary to stand strong. "We are very dependent on what the Big Tech players develop. They have a lot of money to be able to make big steps and take a lot of risks. Although we talk to them from time to time, unfortunately we have no influence on their roadmap. For them, education is just a small party." This is another reason why they say it would be nice if educational institutions in the Netherlands joined forces even more. "At the technical level, we are encouraging that with the XR Developer Network."
New way of training
Maurice Magnée, lecturer in Innovation in Care (HAN), is also in favour of cooperation. "When each institution starts making its own interface and modules, it costs a lot of time and money. If we work together, we can speed up considerably and also save money in the long run." Such cooperation takes place, among others, within DUTCH (Digital United Training Concepts for Healthcare), a collective of University Medical Centres, training institutes, top clinical and general hospitals, (technical) universities and public and private parties within Educational and Medical Technology. "DUTCH aims to bring about a transformation of training, upskilling and retraining of healthcare professionals through scalable digital learning tools and physical and virtual simulation. It is a new way of training for healthcare."
Issues of the future
Education Innovation Adviser Esther van der Linde (SURF) also thinks it is important to find a good balance between everyday worries and the issues of the future. Both the low-hanging fruit and the 'high-hanging fruit' deserve attention. "The developments in XR and technology are moving very fast and it is important to stay hooked. Also in relation to all the plans and steps of Big Tech."
Managing data
The hardware provided by Big Tech, the security and management of data, the glasses needed and enough creative and technical people to make it all happen: according to Van der Linde, these are all things that require daily attention and solutions. "You have to tackle that together as much as possible. That is why SURF has organised XR on Tour and we facilitate networks such as the SIG Virtuality and the XR Developer Network. At the same time, we also have to deal with the future. And that can be done well using that oh-so-important overarching question: what virtual environment are we all creating and do we want our students to be in later?"
Networks and communities
SURF is a cooperative. Collaboration is a logical part of the way it works. Also when it comes to XR. Below are three examples.
SIG Virtuality
The SIG Virtuality aims to inspire its members and bring together supply and demand of people and expertise for projects in the field of serious gaming, simulations and virtual worlds. The SIG Virtuality is a community with representatives from education, government and industry.
XR Developer Network
The aim of the XR Developer Network is to bring together everyone working on XR for SURF member institutes from a technological focus. To learn from each other, inspire each other, overcome technological challenges and further develop XR.
Practical skills learning with technology
The Practical Skills Learning with Technology community was created by the Digital Education in Practical Skills (DOiP) working group of the Acceleration Plan. The community aims to create connection and exchange between teachers, researchers and supporters to achieve effective digital skills education.