Edubadges: national approach to badges in education
An increasing number of educational institutions worldwide are gaining experience with open badges: digital certificates that show that the owner has certain skills or knowledge. In the Netherlands, SURF is developing an infrastructure with which Dutch educational institutions can issue edubadges. Launch is foreseen for the last months of 2020.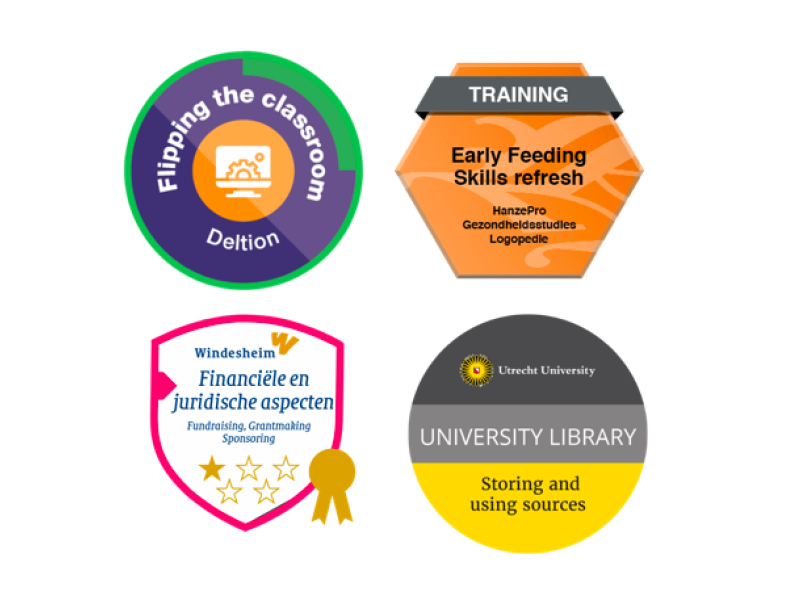 What are (edu)badges?
A badge is a digital piece of evidence with which a student demonstrates that he or she has mastered certain skills or knowledge. In the context of lifelong development, students and employees are increasingly being educated or gaining experience at various institutions, both in their own country and abroad. Badges are a great instrument to make acquired knowledge and skills visible and 'portable'.
Edubadges: tool for flexible education
An increasing number of students have − whether previously or elsewhere − acquired skills and knowledge relevant to their study, and they wish to receive recognition or exemption for this in their study programme. A number of institutions are looking into the possibility of providing courses in accredited units that are smaller than a diploma (micro-credentials). Digital badges are the tools to achieve this. As these badges are issued in an educational context, they are called 'edubadges'.
Edubadges: a unique national approach
In 2016, SURF started exploring the possibilities that open badges can offer to Dutch higher education, and how they could benefit most at the national level. In the US, for example, badges are available in various forms, on various platforms and from various providers, but the Dutch institutions have explicitly opted for a national approach in collaboration with SURF. With this approach, the Netherlands is one of the pioneers in the world.
What does SURF want to achieve?
After a successful pilot phase, SURF will be developing the edubadges infrastructure into a fully fledged service. Launch is foreseen for the last months of 2020. Educational institutions throughout the Netherlands will then be able to issue digital certificates to their students , using the edubadges infrastructure that SURF provides. The institutions will be able to give their own look and feel to the edubadges they issue.
Pilot with institutions
In 2019, 16 universities, colleges and MBO institutions are gaining initial experience with edubadges in a pilot, in close collaboration with SURF. The institutions are thereby working on their own edubadge strategy, on arranging the roles and rights, and on the external design of edubadges. SURF is working on making the infrastructure robust, on technical integration with learning management systems (among others), on making their own look and feel possible for each participating institution, and on the metadata formats.
Read more about this pilot on the edubadges wiki
The edubadge application code is open source and is available on GitHub.
Cooperation with the Flexibilization Acceleration Zone
SURF is coordinating with the Flexibilization Acceleration Zone. This is a part of the national Acceleration Plan, in which 40 university colleges and universities are working together to strengthen the quality of education and the international position of higher education. The Flexibilization Acceleration Zone is working on a more flexible education system, among other things by supporting a more modular design. Edubadges can be used as microcredentials to certify knowledge and skills in units smaller than diplomas.
Samenwerking met de versnellingszone Flexibilisering

SURF is betrokken bij de versnellingszone Flexibilisering, onderdeel van het Versnellingsplan Onderwijsinnovatie met ICT. Verschillende instellingen werken hierin samen aan een flexibeler onderwijssysteem, onder andere door een meer modulaire opzet te ondersteunen en edubadges als microcredentials in te zetten.
Stay up to date
Subscribe to updates on the Edubadges project and on microcredentialing. You will receive an update by e-mail, up to 4 times a year.