The SURF board of directors
The SURF board of directors formulates SURF's policy and strategy and translates this into tactical and operational matters. An example of this is the translation of themes from the SURF Strategic Plan into concrete programmes.
Constitution
The board of directors consists of:
The SURF cooperative has great ambitions to increase the impact of digitisation of education and research. In order to realise those ambitions, the collaboration with its members will be more intensive and substantive, and the SURF organisation will change. To accommodate that change, the current members Erik Fledderus, Jan Bakker, and Erwin Bleumink handed over the baton to the new SURF's board of directors.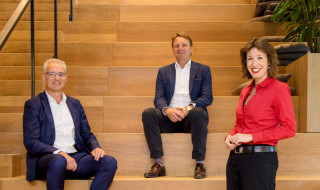 Van bestuur naar raad van bestuur
De coöperatie SURF heeft grote ambities om digitalisering van onderwijs en onderzoek meer impact te laten hebben. Om die ambities waar te maken wordt de samenwerking met de leden intensiever en inhoudelijker en verandert de SURF-organisatie. Om ruimte te geven aan die verandering hebben Erik Fledderus, Jan Bakker en Erwin Bleumink het stokje overgedragen aan de nieuwe raad van bestuur.
Additional functions Jet de Ranitz
Chairwoman of the Board of Praemium Erasmianum
Vice-Chairwoman of the Supervisory Board of the Espria Foundation, member of the Audit Committee
Member of the Supervisory Board of the Insurance Agency Groot Amsterdam (VGA) N.V.
Member of the Supervisory Board of the Holland Festival Foundation