In the renewed 1SURF organisation, we opt for a separate positioning of technological (process) innovation for research and education. Our goal is clear: with pioneering activities we ensure the visible and high impact innovation that SURF members ask for.
Extended ambition
Previously, innovation was organised within the domains and product departments. The advantage of this was that innovation held close contact to the service provision, making it possible to quickly switch from an innovation to a service. An important disadvantage, however, was that innovation did not receive sufficient attention, people and resources. What's more, innovation was only incremental. Our ambition and that of our members extends further. That's why we are choosing to setting up our innovation processes differently.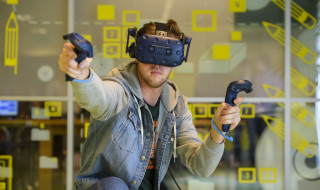 Close collaboration
Starting September 2020, the teams working on innovation within SURF will be led by Ron Augustus (CINO). SURF applies the following guiding principles:
An innovation programme focuses on innovation with impact on research or education.
The innovation programmes contribute to SURF's mission: to allow research and education in the Netherlands to make full use of the opportunities offered by digitisation.
An innovation lab focuses on disruptive technological innovations.
Innovation programmes and innovation labs collaborate intensively with members.
By investing more in innovation labs, and in doing so collaborating explicitly with universities of technology, the cooperative's visibility and distinctiveness in ground-breaking innovations will increase.
The results of innovation programmes and labs can lead to services, knowledge products, communities, new working methods or transition processes.