Theme: Collaboration in research
Scientific and applied research is not restricted by the boundaries of specific institutions or research groups. Researchers collaborate nationally and internationally. Research institutes, university medical centres, universities of applied sciences and universities work with each other and collaborate with industry.
Digital (or virtual) research environments where researchers can store, edit and share data online makes such collaboration possible. Researchers have the computing power they need thanks to local, national and European computing facilities.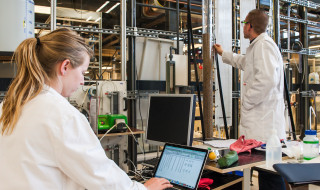 Ambitions for Collaboration in research
The SURF members can easily and securely collaborate online in (inter)national and multidisciplinary research groups by using digital or virtual research environments (DRE/VRE). A DRE/VRE is a federated infrastructure with existing and/or future services of members, research communities, market players and/or SURF. DRE/VRE give researchers access to local, national and international (European) data services and computing facilities, including public cloud services, provided that these can be provided under the right conditions. SURF supports researchers and research communities to use the available facilities (including visualisations) and organises the coordination of investments in local computing facilities.
Activities for 2021-2022
In order to realise these ambitions, we will continue to provide existing services and continue a number of projects already underway. In addition, we also need to change course and start up new projects.
SURF 2-Year Plan 2021-2022
Activities for Collaboration in research
Main changes in direction
Organisation of a vision for DRE/VRE with existing and/or future services of members, research communities, market players and/or the SURF organisation, including the (continued) development of projects supported by the RDM steering group, such as Research Drive.
Translation of the vision into a functional and technical target architecture for virtual research environments that supports all phases of research.
Development of a vision for optimal support of researchers in the use of research facilities and the division for roles between members, the Netherlands eScience Centre, SURF, DANS and other parties, for example by connecting local help desks. 
We will implement the changes in direction for 2021-2022 in the following new projects:
SURF 2-Year Plan 2021-2022
Change of course for Collaboration in research
SURF 2-Year Plan 2021-2022
Available budget for Collaboration in research