Theme: Research Data Management
Research flourishes thanks to openness. There is a powerful desire to make all research data available according to FAIR principles (Findable, Accessible, Interoperable, Reusable), but this is certainly not always possible because researchers lack the facilities to do so.
Institutions are responsible for organising this for their researchers. It is necessary to make mutual arrangements in this regard to ensure that research data is available to all researchers according to the FAIR principles. A federated data ecosystem for data that is shared, used and stored based on the same standards and the appropriate conditions makes this possible. Agreements on standards and conditions are necessary in order to achieve such an ecosystem.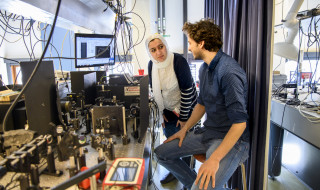 Ambitions for Research Data Management  
SURF's members have a federated data infrastructure that allows research data to be shared, used and stored securely in accordance with the FAIR principles: the data is Findable, Accessible, Interoperable and Reusable. The vision for data control  is the basis of the technical, functional and organisational characteristics of the infrastructure for research data. SURF encourages the use, monitoring and appreciation of open science through training and knowledge sharing, and facilitates researchers with Persistent Identifiers. The members collaborate on the ambitions of the National Platform for Open Science within SURF. We work with the NPOS partners to organise the Dutch contribution to the federated system of the European Open Science Cloud. 
Activities for 2021-2022
In order to realise these ambitions, we will continue to provide existing services and continue a number of projects already underway. In addition, we also need to change course and start up new projects.
SURF 2-Year Plan 2021-2022
Activities for Research data management
Main changes in direction
Translation of the vision for data control  into a functional and technical target architecture for the research data infrastructure.
Expansion of the components of the federated infrastructure with existing and/or future services of members, market players and/or the SURF organisation.
Connection and/or support of various research data management initiatives, such as Digital Competence Centres, projects of the National Platform for Open Science on optimal reuse of research data.
We will implement the changes in direction for 2021-2022 in the following new projects:
SURF 2-Year Plan 2021-2022
Change of course for Research data management
SURF 2-Year Plan 2021-2022
Available budget for Research data management