Theme: Making education more flexible
SURF's members want to offer students the flexibility they need to develop their talents to the full. For example, they want to offer them more freedom of choice in the composition of their training programme and facilitate lifelong development. National agreements are required to organise this type of flexibility. 
Online education allows students to study wherever and whenever they want. The coronavirus pandemic has forced members to offer their education entirely online on an ad hoc basis. This change has revealed the need for a range of services that enables people to make didactic, functional and technical choices.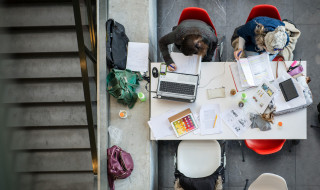 Ambitions for making education more flexible 
In the Netherlands, students can study anytime, anywhere, at their own pace and in their own way. They are free to put together their educational programme with offerings from within and outside their own institution. Thanks to (inter)national agreements on standards, architecture, rules and regulations, this freedom of choice is not hampered by any administrative or logistical constraints. Students and lecturers have the tools they need for the online part of education. SURF offers (within financial possibilities) the technical solutions required to realise the joint ambitions of members of the Acceleration Plan for Educational Innovation with IT  for university education (WO) and higher professional education (HBO), and the Going Digital programme for vocational education and training (MBO).
Activities for 2021-2022
In order to realise these ambitions, we will continue to provide existing services and continue a number of projects already underway. In addition, we also need to change course and start up new projects.
SURF 2-Year Plan 2021-2022
Activities for making education more flexible
Main changes in direction
Development of a functional and technical target architecture and standards for the infrastructure for flexible education and lifelong development based on the members' vision for flexible education (see ongoing project on building blocks for flexible education).
Organisation of an infrastructure for using study data based on the vision for data control .
Organisation of a vision for a suitable offering for online education and digital assessment and a strategy to realise that offering.
We will implement the changes in direction for 2021-2022 in the following new projects:
SURF 2-Year Plan 2021-2022
Change of course for making education more flexible
SURF 2-Year Plan 2021-2022
Available budget for making education more flexible