The organisational structure of SURF
SURF is a cooperative with more than 100 members. The members are the owners of SURF; we jointly determine the course.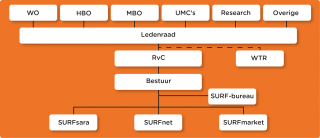 The members are represented in the Members' Council, the highest body within the cooperative. The Members' Council appoints the Board, which, among other things, determines SURF's policy and strategy. In addition, the Supervisory Board and the Scientific Technical Council (WTR, an independent advisory body) are part of the organisational structure. The members of the Scientific Technical Council are appointed by the Members' Council.
Each institution participating in SURF designates a Coordinating SURF Contact Person (CSC) to <link>. This contact person streamlines and coordinates the information and communication between the institution and SURF. Finally, various communities and special interest groups (SIGs) are active within SURF.
Governance code
Through the Members' Council, the members have control over, among other things, SURF's strategy and the (core) package of services. In order to be able to exercise that control, SURF needs not only to involve its members in SURF, but also to be transparent about its management and supervision. For this reason, SURF has drawn up a governance code that contains broadly supported general views on good corporate governance and rules of conduct. The governance code requires that the Board also draws up and publishes a whistleblower policy on the website.