SURF collaboration with Microsoft aimed at Inspiration and Innovation
Supplementary to the Microsoft Agreement 2022-2026, SURF consortium has concluded another multi-year agreement with Microsoft. This non-binding agreement, which is aimed at promoting intensive mutual cooperation, is the Microsoft Inspiration and Innovation Programme, or MIIP for short.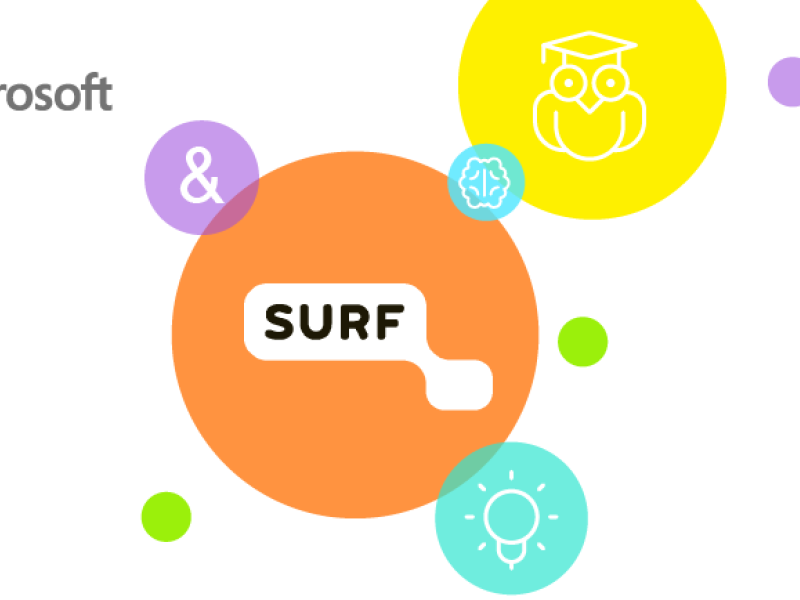 The consortium - consisting of SURF B.V., APS IT-diensten B.V., and SLB Diensten B.V. - has had an agreement with Microsoft for the entire Dutch education market since 1993. The Microsoft Agreement 2022-2026 contains a very extensive range of educational Microsoft products at very favourable terms. We would like the institutions to make optimal use of the associated products and functionalities from the purchase of licences. The MIIP partners organise all activities for the benefit of the participating institutions in coordination with each other beforehand. Each partner in this MIIP agreement can individually or jointly initiate activities and place them on the agenda in order to serve institutions.
MIIP agenda
What does MIIP mean for SURF members?
Through events, workshops, webinars and other interactive activities, we share relevant knowledge about available Microsoft technology. The aim: to benefit the education sector.
Institutions, SURF, Microsoft and partners work together.
We support institutions in getting the most out of their investments.
SURF members influence the joint agenda.
We focus on operations, innovation, and transformation.  
The MIIP focuses on three pillars
Operational Excellence: explore opportunities and work together to maximise value. Awareness of the security measures to be taken for institutions, teachers and students.
Innovation: joint innovation programmes and skills programmes in the areas of Microsoft 365, Azure, and Dynamics 365 
Transformation of education: towards personalised learning. 
MIIP requests?  
Do you have topics that are still missing, that you would like to see on the agenda, or that are not sufficiently covered? Would you like to share your experiences with other institutions? Let us know about it:
Via the License Desk Software and Cloud, via e-mail software@surfmarket.nl. You can reach us by phone at +31 88 787 37 01 on working days from 9.00 to 12.00 and from 13.00 to 17.00.
Who is involved and how do we help each other?
Microsoft is investing in best practices, resources, and skills programmes for instructors, students, and institutions.
SURF consortium - consisting of SURF B.V., APS IT-diensten B.V., and SLB Diensten B.V. - is the driving and coordinating force behind making the programme scalable to the needs of educational institutions.
Educational institutions invest time and attention, provide input, take part in pilots and, in this way, contribute to best practices.
Microsoft Certified Partners, if desired, help to build, test and implement innovative projects and share the results of the projects and solutions with all institutions.
Watch recordings of MIIP webinars? 
To do so, please consult this page on My SURFmarket (behind login): Customer Service > Services > MIIP | My SURFmarket.
"Alone you go fast, together you go further"