Learning spaces
Learning spaces properly support activational education and help students develop 21st century skills. The physical spaces offer extensive didactic opportunities, stimulate learning processes and are in some cases rich in technology. But how do you develop learning spaces? How do you ensure that they are used to their full potential?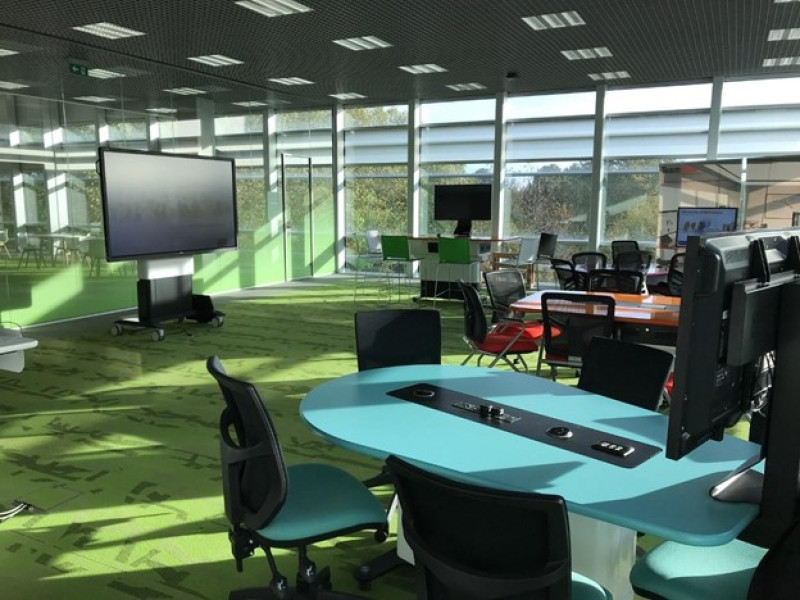 Types of learning spaces
Increasingly, traditional learning spaces are making way for spaces that facilitate (online) collaboration. What do these learning spaces look like? You can find practical examples in the following publications.
Designations
In the Netherlands, there is (still) no standard terminology for the various learning areas. Many terms are used interchangeably. The SIG Learning Spaces plans to publish a standardised classification and names in 2021.
Multi-location learning and hybrid virtual classrooms
In the publication Multi-location learning in practice, learning spaces for online and face-to-face teaching (PDF, in Dutch), we explore on the basis of two practical examples what is already possible in terms of simultaneous teaching from different locations with the aid of a live audiovisual connection. This is also called multi-location learning. New technology makes this form of education more active and effective than before.
Research into technology-rich learning spaces
Want to know more about technology-rich learning spaces in Dutch higher education? SURF has asked Inholland's Teaching, Learning & Technology Lectureship to conduct research among 28 institutions in 2019. In the publication Research into technology-rich learning spaces in Dutch higher education, you can read the results, conclusions and recommendations of this research.
FLEXspace - practical examples
FLEXspace is a one-stop shop for best practices, detailed examples, and a community dedicated to improving learning environments around the world. It is an open environment that brings together institution staff, experts and decision-makers in higher education, libraries and museums to consider solutions for campus planning and facilities, learning technology, A/V system integration, instructional design, teaching and research. Visit the FLEXspace website and get inspired or share your knowledge.
Hybrid virtual classrooms
In the corona era, hybrid virtual classrooms are on the rise in education. In a hybrid virtual classroom, a number of students are present in a physical space and some participate online via screens. What are the experiences of instructors and students with this combination of physical and online learning spaces? How do you work with this as a teacher?
Read the report of the Highlights webinar The rapid rise of the Hybrid virtual classroom (in Dutch) or watch the review of the video.

Tools
One way of measuring the extent to which classrooms support active learning is the Learning Spaces Rating System (LSRS) from Educause. By working with this LSRS, you can better compare different learning spaces.